La Habra Heights, CA –  Jon Lindstrom, of Denver, Colorado, took the early lead, with a six-under-par 65, at the 2023 TMGA Senior & Mid-Master Championship at Hacienda Golf Club. Lindstrom started his first round on the back nine, where he carded six birdies, two pars, and a bogey for a five-under-par 31. He continued his solid play on the front nine where he carded a one-under-par 34, with one birdie and eight pars.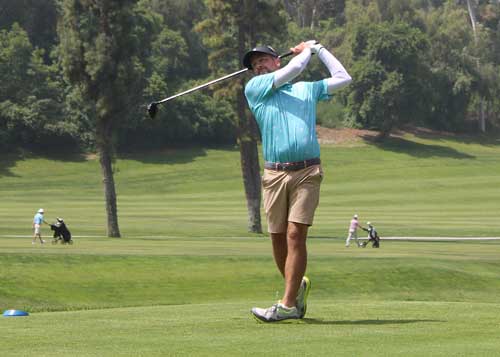 Lindstrom recently graduated into the Senior division, turning 55 in September of 2022. Since his birthday, he has participated in eight World Amateur Golf Ranking tournaments and hasn't finished lower than fifth in the field. His current WAGR ranking of 649th in the world is his highest.
There were two other players in the Senior division under par in today's first round. Daniel Sullivan, of Pasadena, California, sits at solo second shooting a three-under-par 68. In third place is Steve McPherson, of Hemet, California, at one-under-par 70.
Nicholas Bock, of Tustin, California, had the best hole of the day with an ace on the par 3 twelfth hole. The hole measured 144 yards and Bock hit an eight-iron.
In the Mid-Master division, Marc Engellenner, of Rocklin, California, holds a one stroke lead over Chris Kamin, of Phoenix, Arizona. Engellenner, 2021 TMGA Four-Ball Champion, carded six birdies, nine pars, two bogies, and a double bogey to finish his round at two-under-par 69. Kamin, the 2017 TMGA Mid-Master Champion, shot a one-under-par 70. Two players are tied for third at even-par 71, Kevin Wolf, of Lodi, California, and Bowen Osborn, of Jacksonville, Florida.
Randy King, of Horseshoe Bay, Texas, leads the Super Senior division by one stroke at one-over-par 72. He carded four birdies, nine pars, and five bogies shooting 36 on both nines. Ben Hargis is in solo second place after shooting two-over-par 73 and hails from Boyce, Louisiana. There are four players tied for third at three-over-par 74: Michael Booker, of Houston, Texas, David Ujihara, of Brea, California, Doug Williams, of Los Angeles, California, and Sam Billmeyer, of Ankeny, Iowa.
There are two players tied for the lead in the Legends division. Philip Svanoe, of Carefree, Arizona, the 2019 Legends Champion, and Patrick Rohan, of Rancho Santa Fe, California. Both players shot four-over-par 75. There are two more players tied for third place at six-over-par 77; Craig Campbell, of Midland, Texas, and Dave Runberg, Centennial, Colorado.
The Senior division (55 and up), consisting of 72 players, teed off in the morning wave and played through some fog and cool morning temperatures. The Mid-Master division (40 and up, with 18 players), Super Senior division (65 and up with 33 players), and Legends division (70 and up with 21 players) all teed off in the afternoon wave when the sun finally broke through reaching a high of 78. For tomorrow's second round, divisions will switch waves.
The dream of oil tycoon and real estate developer, Alphonzo Bell, was to create a world class golf course in southern California. Hacienda Golf Club was born during the "Golden Age" of golf course architecture. Set in the canyon of the La Puente Hills, William Watson designed the first nine holes, which opened in 1920, and the second nine, which opened in 1923. By the end of 2004, the club needed major improvements. Golf course architect John Harbottle III was hired to rebuild the green complexes, adjust bunkers, and add length to the golf course. During the renovation, the creek running throughout the golf course was reintroduced and plays a pivotal role in defending the golf course.
The first Trans-Mississippi Senior Championship was held in 2000 at White Bear Yacht Club in Dellwood, Minnesota. In 2011, the TMGA expanded the championship to include a Super Senior division (players aged 65 and older). As the association and event continued to grow, a Legends division (players aged 70 and older) was added in 2013. Five years later, the TMGA created a Mid-Master division (players aged 40 and older) and it has continued to attract some of the best amateurs from around the country.
For more information on the 2023 TMGA Senior & Mid-Master Championship and Hacienda Golf Club, including pairings and the leaderboard, click here.
About the Trans-Mississippi Golf Association
The Trans-Mississippi Golf Association is one of the oldest and most prestigious golf organizations in the United States. Established in 1901, the Trans-Mississippi is composed of over 200 member clubs located throughout the country. The Association is governed by a board of independent directors and is headquartered in Dallas, TX.

4475 Trinity Mills Road, Suite #702526
Dallas, TX 75287