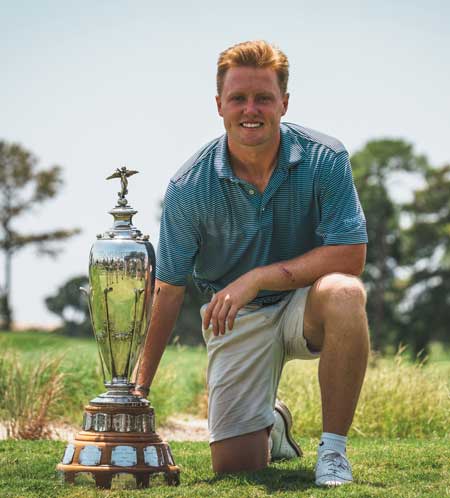 Dallas, TX – Jake Holbrook had seen his name at the top of the leaderboard since day one along side Neal Shipley who both had shot identical rounds of (66,65,69) to have the field looking up to catch them when day four began.  Both players stayed close shooting 1 under on the front 9.  Shipley started to create a gap with birdies on 10 & 11 followed by an eagle on hole 14 to get to 15 under. Holbrook birdied 15 to stand at minus 11. AS player approached the long par 3 17th over water things changed dramatically.  Shipley shot fell victim to the penalty area making a triple and Holbrook cashed in with a birdie a birdie.  Walking to the 18th tee Holbrook now had a one-shot lead at 12 under.  Both players found the fairway and hit nice approaches into the green with Shipley inside and only about 15 feet away.  As Holbrook's putt to win slide just by the door was open.  In an amazing bounce back, Shipley center cut his birdie put and the playoff was one.  Player went back to play the 128th again, while both players hit the green neither was within reasonable birdie range.  Holbrook putter first from some 60" away and made the long-range bomb for birdie.  Shipley made a valiant effort to make his 25 -footer but just missed and we had a champion in Jake Holbrook.
While all this was going on in regulation Riley Lewis was shooting 6 under (64) to sit at minus 11 and make the last group need to finish at 12 under or another member would be joining the party.  A new course record was also shot with William Moll posting eight birdies and a lone bogey for 63.  Mid-Am Evan Beck captured the low Mid-Am honors at 3 under for the tournament.
Special thanks to the membership, the staff and all of the volunteers at Brook Hollow Golf Club who worked so diligently to bring a superior championship experience to the players. Click here for complete scoring.
COURSE STATS: Nines have been flipped from normal member play.

Trans-Mississippi Golf Association & Turf Fund:  The Trans-Mississippi Golf Association was founded in 1901 and has conducted the Amateur Championship for 119 years. The Association conducts four championships each year and raises funds for the Turf Scholarship and Club Grants program. The Turf Fund has provided over $125,000 in scholarships and grants to students pursuing a career in agronomy in each of the last ten years.
About the Trans-Mississippi Golf Association
The Trans-Mississippi Golf Association is one of the oldest and most prestigious golf organizations in the United States. Established in 1901, the Trans-Mississippi is composed of over 200 member clubs located throughout the country. The Association is governed by a board of independent directors and is headquartered in Dallas, TX.

16837 Addison Rd., Suite 100
Addison, TX 75001